AND NO WIKI PEDIA REFERENCES

;-)

;-)

;-)



13 Jul 2011 – The Center for Media and Democracy has EXPOSED over 800 "model" bills and resolutions secretly voted on by corporations and politicians ...
ALEC Exposed
From Alec Exposed
Through ALEC, Global Corporations Are Scheming to Rewrite YOUR Rights and Boost THEIR Revenue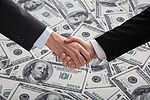 Through the corporate-funded American Legislative Exchange Council, global corporations and state politicians vote behind closed doors to try to rewrite state laws that govern your rights.
These so-called "model bills" reach into almost every area of American life and often directly benefit huge corporations.
Through ALEC, corporations have "a VOICE and a VOTE" on specific changes to the law that are then proposed in your state. DO YOU?
FIND the "Model Bills" HERE




How YOU Can Expose ALEC & Share What You Learn

SPREAD THE WORD. Share information about ALEC through Facebook, e-mail and Twitter. Concerned groups and people in every state need this to investigate how ALEC corporations are rewriting laws for their own advantage.

And, please join the conversation on Facebook!

EXPOSE ALEC LEGISLATORS. Demand the truth about which politicians in your state are in ALEC. Uncover whether YOUR tax dollars are paying ALEC "dues." Expose politicians who accept "scholarships" from ALEC's corporate-funded coffers for fancy trips.

EXPOSE ALEC'S ROLE IN YOUR STATE HOUSE. Read these corporate-backed "model bills" NOW and cross-check them with bills in your state legislature. Ask your local media to report on what you have found and write your local newspaper.

SHARE YOUR DISCOVERIES. Tell us what you uncovered! Tweet what you learn with the hashtag #ALECexposed, join a

discussion on this site

or email us a confidential tip via editor AT ALECexposed.org.

And, follow our tweets on Twitter!
Get the Goods on ALEC

From The Nation Magazine

From PR Watch

ALEC & Tobacco (NEW!)




Who Is Behind ALEC?

More Information




Join the Conversation!

 

ALECexposed

ALECexposed on Twitter